THEY have shared sets with some of Hollywood's biggest names, and are not afraid to
steal the limelight now and again. But these five stars of the screen are not your average A-listers – they are paid in treats, and love nothing more than a nap between takes. The doggy divas – Gizmo, Tori, Paddy, Dodger and Yogi – have clocked up an impressive list of roles between them, including Hollywood turns in Fantastic Beasts And Where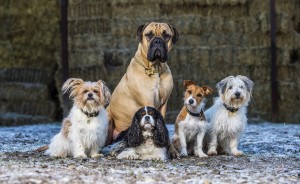 To Find Them and 2017′s Beauty And The Beast.